Webinars on Advocacy at AHRI
Image
Webinar on Establishing Relationships with Your Elected Representatives and Making the Most of Your Federal and State Legislative Visits
The ability and willingness of our member companies to establish relationships and work with their elected representatives at the local, state, and federal levels are a key to the ultimate success of AHRI's – and our industry's – lobbying efforts. AHRI members, view this webinar to learn how to build a presence in Washington and where you live and how to easily advocate for your company's legislative priorities.
Log in to view the webinar here.
---
Image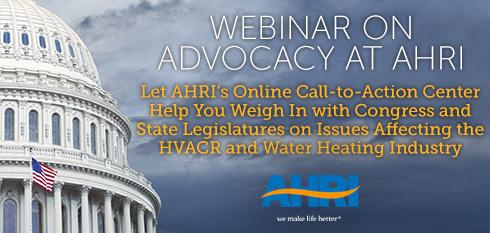 Webinar on Advocacy at AHRI
Federal and state legislative activity impacting the HVACR and water heating industry continues despite the COVID-19 pandemic. As such, AHRI recognizes the need to adopt additional advocacy tools to make sure our members are heard on Capitol Hill and in state legislatures across the country. Our new online tool enables our member company employees to communicate with Congress and state legislatures at the click of a button.
Learn how this easy-to-use new tool will streamline your ability to advocate for the continued success of our industry.
View the webinar here.