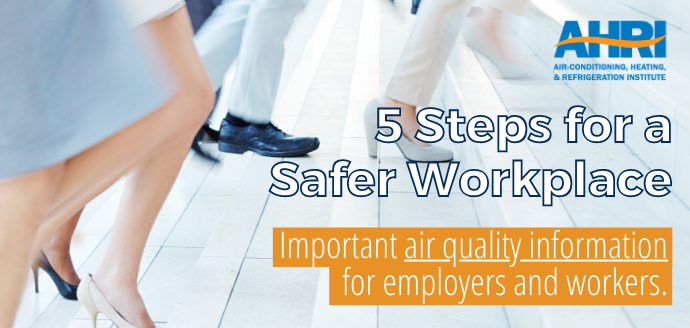 Introduction
While the primary method of COVID-19 transmission is in droplet form—i.e., person-to-person or via surfaces, researchers are still studying the virus, given its relatively brief stint thus far on the world stage. To date, the American Society of Heating, Refrigerating, and Air Conditioning Engineers (ASHRAE) has asserted that, "Transmission of SARS-CoV-2 through the air is sufficiently likely that airborne exposure to the virus should be controlled."
So, while hand-washing with warm water and plenty of soap, along with and surface-sanitizing and avoidance of close person-to-person contact are still the main methods to stay healthy, there are several other steps that building engineers can take to significantly minimize the risk of transmission.
Image
What that Means for Commercial Buildings
As businesses, corporations, associations, and other entities prepare to have their employees return to offices spaces, building owners, operators, and engineers need reliable information on steps they can take to help make the commercial spaces they control as safe and welcoming as possible. A large part of that effort will involve a building's heating, ventilation, air conditioning (HVAC), and water heating infrastructure. America's HVAC equipment manufacturers are committed to providing the technologies that can make all public buildings as safe and health-affirming as they can be.
The Bottom Line
A top priority should be a building assessment, through which qualified technicians determine a) appropriate air flows, and b) if spaces within the building (offices, common areas, meeting rooms, etc.) are achieving those air flows.
It should be well understood that a healthy building, whether a school, office building, public space, or even a home involves tradeoffs of energy use, comfort, and safety. Some of the remedies advocated above can increase energy usage, but with health being a top priority, particularly in the time of pandemic, most will find that the resulting increase in comfort and safety necessary and worthwhile.
A properly installed, properly maintained system, with adequate ventilation using outside air, proper filtration, and appropriate humidity control – all of which are accomplished through readily available technologies -- can go a long way toward mitigating potential viral spread.
---
Resources
5 Steps To Safer Schools
For information on how to help control the spread of COVID-19 in schools visit our IAQ: Schools page.
Image
Bibliography of Citations