Small Duct, High-Velocity Air Conditioning Systems
A unique feature of the SDHV systems is the air distribution system. The air distribution system, together with the blower-coil unit, is usually installed in attic spaces of older homes that were not designed for forced-air circulation heating or cooling.
Thus, installation of a SDHV system helps satisfy the air conditioning needs for older homes, replacing less-efficient window air conditioners. The outdoor condensing units used in SDHV systems are identical to those used in conventional split systems.
Image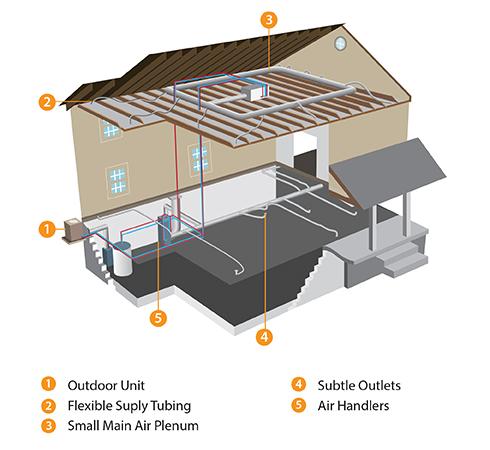 Another advantage of using of SDHV systems is the use of small, 2-inch insulated, flexible tubing to supply cooled air throughout your home. The ductwork weaves in between spaces in the walls, ceilings, or floors similar to a central vacuuming system. In fact, high velocity systems use small supply vents with cover plates the size and shape of CD-ROMs (or smaller). This makes the system popular in older homes where conventional ductwork would require much more demolition to the existing space.
A SDHV heat pump system is comprised of a conventional outdoor heat pump unit and an indoor blower-coil unit and duct system similar to the system used for cooling, except that the blower-coil unit is equipped with a larger coil for refrigerant management and a back-up heat source, such as a resistance heating element or hot water coil, is added.